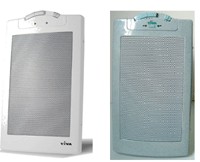 Replacement parts VIVA Air Purifier to fit models . . .
Viva Air purifiers with HEPA filters work by removing airborne pollutants such as dust, pollen, smoke and mould spores, together
with and food odours, leaving you with noticeably fresher rooms. By removing up to 99.99% of these airborne pollutants you
create a cleaner, healthier living environment, especially important for those with allergies, asthma and respiratory problems. The
difference these units make can be physically felt within hours of first operation. To prolong the life of the unit it is important that
all filters get replaced before becoming too clogged which can also impair on the performance.