Your basket is empty!



We accept all major debit
and credit cards



Home > Universal Parts > Universal Microwave Glass Turntable
Universal Microwave Glass Turntable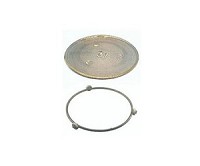 Universal Microwave Roller Ring to fit 95% of all Microwaves sold in UK including: Aeg, Alba, Belling, Bush, Creda, Argos Cookworks, Daewoo, Delonghi, Electra, Electrolux, Goldstar, Goodmans, Hinari, Tesco Items, JMB, Kenwood Matsui, Morphy Richards, Nec, Saisho, Samsung, Siemans, Smeg, Swan, and Zanussi.
For Sanyo, Sharp, Hitachi , Tefal, Panasonic and some Samsung models, please contact our help line with model number to ensure correct fit. Alternatively email: info@easyspares.co.uk
HELP & ORDER LINE: 01733-362413
Lines open from 09:00 - 5.30 Monday to Friday . Calls charged at your normal UK rate.
Click on "Model Fit List" tab for main list
Please note roller rings need to ordered separately from turntables.
DAEWOO, GM66, KOG37FP, KOG37F7, KOG360S, KOG366T, KOG370A, KOG370S, KOG574R, KOG3667, KOR61AP, KOR61APGR, KOR61AS, KOR61A52S, KOR61ASWH, KOR63AS, KOR63D7, KOR63DB, KOR63F7, KOR63F7SL, KOR63F8, KOR63F8SL, KOR63MC, KOR63S7, KOR63XS, KOR610P, KOR611M, KOR616T, KOR616TN, KOR616TM, KOR620S, KOR630A, KOR630ABL, KOR630ASL, KOR630S, KOR633V, KOR636T, KOR6347R, KOR638RBK, KOR638RSL, KOR2000, KOR3000, KOR6375, KOR2605, KOR6105, KOR6115, KOR6206, KOR6307, KOR6327, KOR6347, M4000E, GOODMANS, GM616, GMX320GMSL, GMX707, MX717GMX997SSG, GMX704CSL, HINARI, MX707, MX708, MX717TC, MX718TC, MX775TC, MX778TC, MX779TC, MX812TCG, EMX710SS, EMX731SSE, MX310TC, MX315, MX320GM, MX415SL, MX676TCGM, MX702, MX709ECSL, MX710SS, MX730SSE, MX731, MX731SSE, MX731SSEG, MX830SSE, MX830SSEG, MX905CEGSS, KENWOOD, K20001T, K2000, PANASONIC, NNA554, NNA554, NNA574, NNA673, NNA712, NNA720, NNA722, NNA725, NNA750, NNA752, NNA755, NNA714, NNA724, NNA754, NNA770, NNA774, NNA775, NNA811, NNA813, NNA823, NNC827, NNA850, NNC853, NNA872, NNC503, NNC553, NNC703, NNC753, NNC803, NNH503, NNH553, NNT551, NNT559, NNT570, NNT571, NNT573, NNT589, NNT591, NNV621, NNV622, NNV629, NNV651, NNV659, NNV670, NNV671, NNV672, NNV673, NNV681, NNV689, NNA823, NNA873, NNA883, NNA873, NNC877, NNA880, NNA883, NNC897, NN6403, NN6453, NN6803, NN6853, NN3454, NN3454B, NN3456, NN3456B, NN3456BBPQ, NNE228M, NNE238Y, NNE250WB, NNK304, NNK304B, NNK354, NNK354B, NNK358C, NNK358W, PROLINE, GT77, GT77M, GT78, GT88, GT779TC, M1515, MX812TCG, SM11, SM12, SM12GR, SM12W, SM18, ST22, ST22SBL, ST23, ST23W, ARGOS, 400455, COOKWORKS, E8020P, BUSH, BM997SSG, TESCO, MMS06, MCM01, MTG045S, MT06, MTG06, CG450S, EMD754, EMD7550EUK, EMD7552, EMF1051, EMG200, EMG202, EMG203, EMG204, EMG2050, EMG2051, EMG2550, EMG2551, EMG400, EMG401, EMG403, EMG404, EMG4050, EMG4052, EMG430, EMG450, EMG451, EMG453, EMG471, EMG473, EMG474, EMS002, EMS052, EMS100, EMS101, EMS102, EMS103, EMS104, EMS1050, EMS1051, EMS1052W, EMS150, EMS151, EMS152, EMS1522W, EMS153, EMS154, EMS1550, EMS1551, EMS1552, EMS300, EMS301, EMS303, EMS3052, EMS350, EMS351, EMS353, EMS3550, EMS3552, EMSL10N, EMSL20, EMSL30, EMSL30NNN6403, NN6453, NN659, NN6803, NN6853, NNA554W, NNA574, NNA574SBBPQ, NNA712A, NNA720, NNA720M, NNA720MB, NNA720MBBPQ, NNA722M, NNA723M, NNA723MBBPQ, NNA750, NNA750W, NNA750WB, NNA750WBBPQ, NNA752, NNA752W, NNA753, NNA753W, NNA770, NNA7705BBPQ, NNA770SB, NNA770SBBPQ, NNA772S, NNA772SBBPQ, NNA772SBBTQ, NNA773S, NNA774SBBPQ, NNA775S, NNA850, NNA850CB, NNA850W, NNA850WBBPQ, NNA872, NNA873S, NNA880, NNA880W, NNA880WB, NNA883W, NNC703B, NNC703BBPQ, NNC753, NNC753B, NNC753BBPQ, NNC803/853, NNC803B, NNC803BBPQ, NNC827BBPQ, NNC827M, NNC827MB, NNC827MBBPQ, NNC853, NNC853B, NNC853BBPQ, NNC877, NNC8774, NNC877C, NNC877CB, NNC877CBBPQ, NNC877W, NNC877WB, NNC877WBBPQ, NNC880W, NNC897C, NNC897CBBPQ, NNC897W, NNC897WB, NNC897WBBPQ, NNCT766, NNH503B, NNH553B, NNT551, NNT551W, NNT551WBBPQ, NNT559, NNT559CB, NNT559W, NNT559WB, NNT559WBBPQ, NNT570, NNT570S, NNT571S, NNT571SBBPQ, NNT573, NNT573S, NNT589, NNT590W, NNT590WB, NNT591, NNV621, NNV621M, NNV621MB, NNV621MBBPQ, NNV622, NNV629, NNV629M, NNV629MB, NNV629MBBPQ, NNV651, NNV652, NNV652W, NNV652WBBPQ, NNV659, NNV659C, NNV659W, NNV659WB, NNV659WBBPQ, NNV670SB, NNV671SBBPQ, NNV672S, NNV673S, NNV681WB, NNV689, NNV689W, NNV689WB, NNV869, Daewoo, EW66MW, Daewoo, Gm66, Daewoo, GMX320GMSL, Daewoo, GMX707, Daewoo, GMX717, Daewoo, GT77, Daewoo, GT77M, Daewoo, GT78, Daewoo, Kog3605, Daewoo, Kog3667, Daewoo, Kog366t, Daewoo, Kog3705, Daewoo, Kog370a, Daewoo, KOG37A5, Daewoo, Kog37f7, Daewoo, Kog37fp, Daewoo, Kog574r, Daewoo, KOG6215, Daewoo, Kor2000, Daewoo, KOR2000A, Daewoo, Kor2605, Daewoo, Kor3000, Daewoo, KOR3000SL, Daewoo, KOR30A, Daewoo, KOR6025, Daewoo, KOR602M, Daewoo, Kor6105, Daewoo, Kor610p, Daewoo, KOR6112, Daewoo, Kor6115, Daewoo, Kor611m, Daewoo, KOR611Q, Daewoo, Kor6167, Daewoo, Kor616t, Daewoo, Kor616tm, Daewoo, Kor616tn, Daewoo, Kor61a5, Daewoo, Kor61a52s, Daewoo, Kor61a5wh, Daewoo, Kor61ap, Daewoo, Kor61ap/Gr, Daewoo, KOR61APGR, Daewoo, Kor6205, Daewoo, Kor6206, Daewoo, Kor6305, Daewoo, Kor6307, Daewoo, Kor630a, Daewoo, Kor630a/Bl, Daewoo, Kor630a/Sl, Daewoo, KOR-630A0A, Daewoo, KOR-630A0A/1A, Daewoo, KOR-630A0S, Daewoo, KOR-630A1A, Daewoo, KOR-630A9A, Daewoo, KOR630ABL, Daewoo, KOR630ASL, Daewoo, Kor6327, Daewoo, Kor633v, Daewoo, Kor6347, Daewoo, Kor6347r, Daewoo, KOR634RSL, Daewoo, Kor636t, Daewoo, Kor6375, Daewoo, KOR637FSL, Daewoo, KOR637V, Daewoo, Kor638rbk, Daewoo, KOR638RDSL, Daewoo, Kor638rsl, Daewoo, Kor63a5, Daewoo, Kor63a5wh, Daewoo, Kor63d7, Daewoo, Kor63d79f, Daewoo, Kor63db, Daewoo, Kor63f7, Daewoo, Kor63f7sl, Daewoo, Kor63f8, Daewoo, Kor63fb, Daewoo, Kor63fbsl, Daewoo, Kor63mc, Daewoo, Kor63mcsl, Daewoo, KOR63MDCSL, Daewoo, KOR63RA, Daewoo, Kor63s7, Daewoo, Kor63x5, Daewoo, Kor63x51, Daewoo, KOR68CD7, Daewoo, KOR68CD7SL, Daewoo, Kor6a35wh, Daewoo, KOR6Q8G5S, Daewoo, KOR6Q8GSL, Daewoo, Kor81a5, Daewoo, KOT630A, Daewoo, M1515, Daewoo, M4000e, Daewoo, MCB780W, Daewoo, MCM660A, Daewoo, MX707, Daewoo, MX707A, Daewoo, MX708, Daewoo, MX717TC, Daewoo, MX718TC, Daewoo, MX775TC, Daewoo, MX778TC, Daewoo, MX779TC, Daewoo, MX780, Daewoo, MX812TCG, Daewoo, NNE201, Daewoo, NNE201W, Daewoo, NNE251W, Daewoo, NNE251WBBPQ, Daewoo, NNK101W, Daewoo, NNK151, Daewoo, SM11, Daewoo, SM12, Daewoo, SM12GR, Daewoo, SM12WH, Daewoo, SM18, Daewoo, ST22, Daewoo, ST23, Daewoo, ST23W, Goodmans, GMX320GMSL, Goodmans, GMX707, Goodmans, GMX717, Hinari, MX707, Hinari, MX708, Hinari, MX717TC, Hinari, MX718TC, Hinari, MX775TC, Hinari, MX778TC, Hinari, MX779TC, Hinari, MX812TCG, Kenwood, K2000M, Kenwood, KM2001T, Panasonic, NNE201, Panasonic, NNE201W, Panasonic, NNE251, Panasonic, NNE251W, Panasonic, NNE251WBBPQ, Panasonic, NNK101W, Panasonic, NNK151, Portland, POR61, Proline, GT77, Proline, GT77M, Proline, GT78, Proline, M1515, Proline, SM11, Proline, SM12, Proline, SM12GR, Proline, SM12WH, Proline, SM18, Proline, ST22, Proline, ST23, Proline, ST23W, TESCO, SB1, SB1,NNB756
Small Glass Turntable universal (245mm)


Part # RHMSMP245MM

Price: £12.61


OOS Normally delivered in 15 working days for **special order items please allow up to 30 (w) days

Small Glass Turntable universal (270mm)


Part # MX606GRA34

Price: £10.01


* Normal stock item * Please allow 5-7 days for delivery thank you

Large Glass Turntable Universal (315mm)


Part # MX888TC

Price: £15.77


* Normal stock item * Please allow 5-7 days for delivery thank you

Universal 175 mm Microwave Roller Ring


Part # MX606BLA22

Price: £4.73


* Normal stock item * Please allow 5-7 days for delivery thank you

Universal 190mm Microwave Roller Ring


Part # MX808-ROLLER

Price: £4.73


OOS Normally delivered in 15 working days for **special order items please allow up to 30 (w) days